06-17-21
» Plain Weave Monofilament 5 Micron Nylon Mesh Filter Bags For Beer Filtration
5 Micron Nylon Filter Bag introduction Detailed Product Description
| | | | |
| --- | --- | --- | --- |
| Opening Size: | 175mm Or Customized | Material: | Nylon |
| Usage: | Liquid Filter,Wildely Used | Filter Rating: | 27%-80% Filter Mesh |
| Color: | White | Bag Size: | 420*290mm |
| Mesh Count: | 5Micron | Certification: | FDA |
Plain Weave Monofilament 5 Micron Nylon Filter Bag For Beer Filtration
5 Micron Nylon Filter Bag introduction
The liquid monofilament filter bag is made of high-strength nylon woven mesh. Absolute accuracy level, the surface of the material that is directly trapped by impurities larger than the mesh hole during the filtration process, and the particles smaller than the mesh diameter enter the downstream through the mesh hole, so the nylon single-screen filter bag realizes surface filtration, and the smooth surface is also easy to clean. , can be reused.
Steel ring nylon mesh sock specification
| | |
| --- | --- |
| Product name | Plastic ring nylon filter bag/sock |
| Material | nylon mesh with steel ring |
| Ring size | 175mm and custom made according to your request |
| Aperture size | 5Micron |
| Features | food grade |
| Bag Size | 420*290mm or customized |
| Certification | FDA |
5 Micron Nylon mesh bags application
1. Food and beverage;
2. Bioengineering and pharmaceutical petrochemical and chemical industry;
3. Automobile manufacturing; Petroleum and natural gas; Electronics and plating;
4. Coatings, paints and inks; Nuclear power and thermal power and waste liquid filtration;
5. Liquid filtration in photographic film production process;
6. Purification of liquid and gas in daily chemical industry;
7. Filtering of various coolants in mechanical processing and refrigeration industries;
8. Purification of various liquids in textile, dyeing and paper industry.
5 Micron Nylon mesh bags Product pictures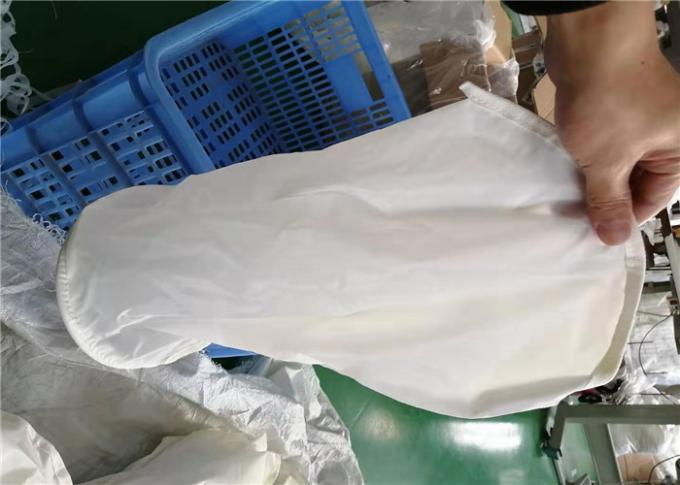 Pre: biodegradable empty tea bags
Next: Elasticated Nylon Paint Filter Bag For Easy Access To 5 / 2 And 1 Gallon Buckets