07-07-23
» Aluminum scraper rubber handle for screen printing
All MACROKUN extruders are made of high-quality polyurethane blades and aluminium alloy for easy cleaning. The handle is ergonomically designed to reduce stress when printing. Custom formulated blades for high solvent resistance and excellent wear resistance to maintain sharp edges longer.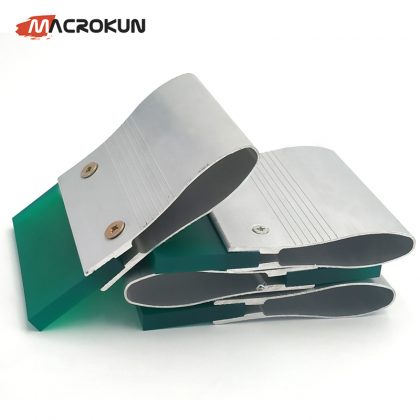 We offer a range of standard sizes, but we can also customize upon request.
Squeegee Profile: Straight Edge
Squeegee Thickness: 3/8″
Squeegee Total Height: 2″
Squeegee Usable Height: 1.2″
Handle Height: 4.8″
Features:
1. Strong solvent resistance and durability
2. Beautiful appearance, light and durable
3. Surface treatment: polished
4. Built-in copper nuts and screws, the unique design makes the scraper fixed.
Macrokun comes with four different types of doctor blade hardness testers:
60 durometer, 70 durometer, 80 durometer and 70/90/70 triple durometer. The squeegee durometer is the squeegee "hardness" which determines the amount of pressure required to push the ink through the mesh.
Pre: Bolsa de filtro de líquido PP PE para tratamiento de agua y purificación de agua
Next: Bolsa de filtro de leche de nuez de malla de nailon/algodón orgánico/cáñamo reutilizable para colador de alimentos de uso múltiple-leche de nuez, jugos, cafés