06-01-22
» 5 Gallon Herbal and dry ice bubble bag kit
The bubble bag is the highest quality plant extract extractor. It allows to divide your herbal extracts into different grades, and different plants have different crystal sizes, so this will allow you to keep the best extracts from the garden.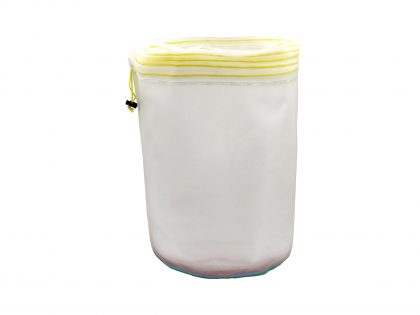 Feature:
1) Easy to clean and reusable.
2) High quality-made of durable mesh mateg after repeated usrial with double stitches to maximize durability. Built-in cord for binding full bags.
3) The bubble bag provides 8 layers of industrial-grade filtration, allowing you to easily and safely extract essential oils and valuable herbal resins without any chemicals or adhesives.
4) Bubble bag is specifically designed to produce the highest possible quality extracts for customers who prefer a streamlined, more cost-effective process.
5) The bags are marked and color coded according to the corresponding micron level. Larger filter bag options allow more precise filtration into different grades.
Each kit includes
1.  Violet-25 microns; White-45 microns; Yellow-73 microns; Black-90 microns; Orange-120 microns;
Red-160 microns; Green-190 microns; Blue-220 microns
2. Black tote bag for easy storage
3. 25 micron pressure screen
How to use it?
1. First, put the bag in the bucket, starting from purple = 25 microns, then white, all the way to blue = 220 microns
bucket.
2. Then, fill the bucket with enough cold water to cover the bottom of the bubble bag (about half full).
3. Put in frozen and dried plant accessories.
4. Add enough ice cubes to almost fill your bucket.
5. Start mixing ice cubes and plant debris for about 15 to 20 minutes, and then let stand for 30 minutes.
6. Pull out one bag at a time from the bucket.
7. The Extracted Herbal will be available for you to collect.
8. Use press nets and tea towels to remove excess water, and use new herbal extracts!
Pre: SERIGRAFÍA PARA PRINCIPIANTES